Welcome to the Valley of the Chateauguay.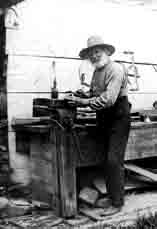 "....a community distinct from every other in the province of Quebec. With the Eastern Townships, with which they are often erroneously classed, the English-speaking settlements of the district of Beauharnois have no affinity. The first settlers of the Eastern Townships were Americans, and between the customs, speech, and habits of their descendants and those of the people who live to the south of them there is no material difference, but they who dwell by the Chateaugay and its tributaries are of Old Country stock, and in character, ways of life, and speech present nearly as striking a contrast to the Americans, who are divided from them by an imaginary boundary-line, as they do to the French Canadians who are found scattered among them and who hem them in to the north and east." (Robert Sellar)
The Protestant Church Registers
As a result of the inevitable intermarriage among the Anglophone settlers in the valley of the Chateauguay, surrounded as they were by the earlier French catholic population, today's genealogists find a massive common interest. Our ancestors typically lived in these communities through the 19th century and beyond.
Our searchable Church Registers Database contains the detailed information extracted from some 60,000 records found in 187 sources among the original Church registers. Many of these sources are not included among archived microfilms or other published resources. Use the Church Registers button at left to Search this unique collection.